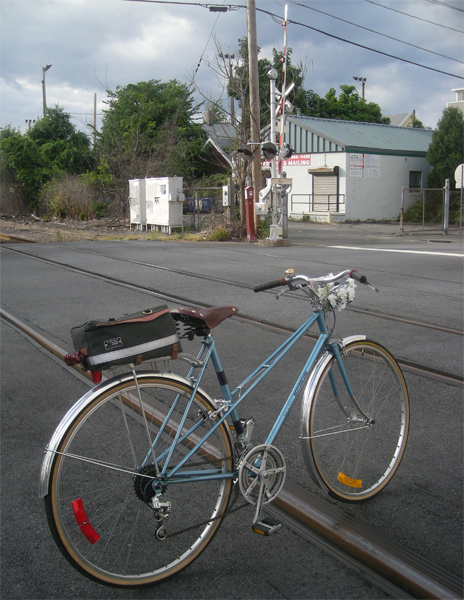 There are many things that make Fort Collins a unique place to be a bike enthusiast, but the one that presents the most challenges for those biking in the downtown area has to be the train tracks.
Now, the train presents special frustrations for motorists as well, but at least they can cross the tracks without worrying that they might suddenly get a close up view of the pavement.
The City of Fort Collins encourages bikers to access the downtown area via less trafficked streets, like Mason St., Howes St., Remington St., Mathews St.,  Laporte Ave. to Walnut, Mountain Ave., Oak St., Olive St. and Magnolia. However, using these streets also means that you're probably going to encounter some train tracks.
Always be sure to carefully cross railroad tracks at a 90 degree angle as the tracks can be slippery and bumpy. For those with skinny road tires, there is also a danger that the tire can get stuck in the gap beside the track, and dump the biker onto the street.
A recent article on Treehugger.com detailed the way that Seattle's DOT has found to minimize this problem (at least until a bike path that doesn't cross train tracks can be built), and there are hopes that other municipalities might soon take notice.
Although this might make you think that bikes and train tracks are destined to be enemies forever, consider the fact that bicycles have been outfitted to travel on top of the old unused railroad tracks around the country. Check out the site of RailBike.com, a a rail bike tour company in Oregon for more info on this unique recreational opportunity.
Another great source for railroad biking is Dick Bentley, who also sells plans ($25) to make one yourself.